Marketing
Understanding Facebook Ad Sets
Facebook Advertising offers a host of options to give you complete creative control over your ads. With all the customization available to you, creating your first ad set may seem a little intimidating. But with the right resources and a solid understanding of campaign settings, advertising on Facebook can be a very lucrative investment. In this post we're covering every aspect of ad sets.
Choosing an objective
Facebook will place your ads based on the objective you choose, so you need to think carefully and choose the objective that aligns the best with your advertising goal. The objectives available are shown below:

Split testing is really your friend when it comes to Facebook ads, allowing you to test the same campaign with different objectives and compare respective CPCs.
Create an audience
Facebook's audience selection tools allow you to reach people who are actively interested in your business and will help you achieve the conversions you seek. You can get hyper-specific in terms of demographics as well. Facebook gives you two options when you create a new audience: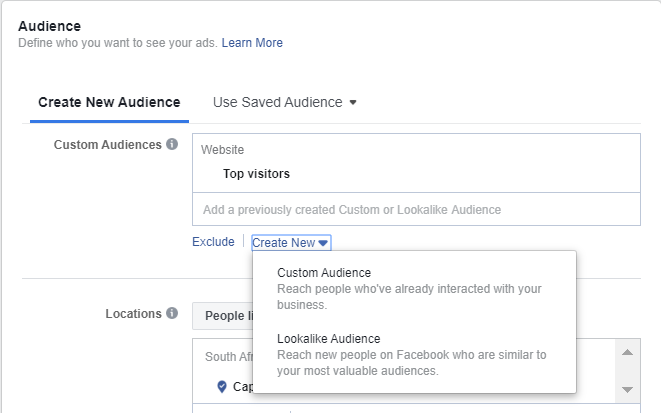 Custom audiences
With custom audiences, you can target people who have interacted with any of the sources shown below: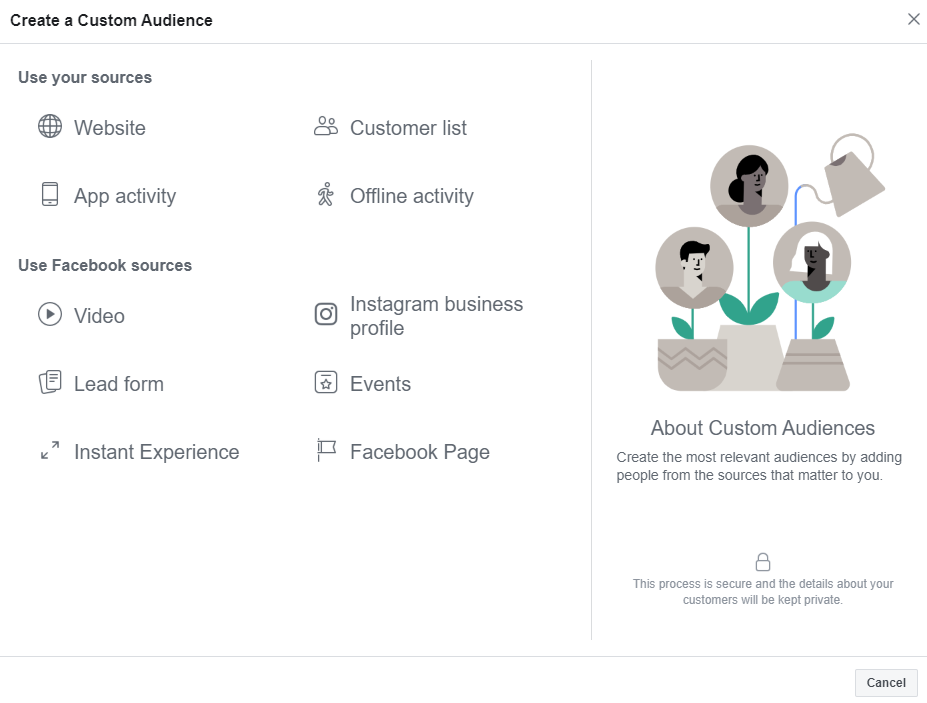 Focusing on your existing connections means you can create repeated, positive brand engagement and foster relationships. You'll need to have the Facebook pixel installed on your website. Check out how to set up the Facebook pixel here.
You'll also need to add further specifications regarding the source you selected. For example, using your website as a source allows you to create an audience for all site visitors, visitors who spent a certain percentage of time on your site, or visitors of specific pages.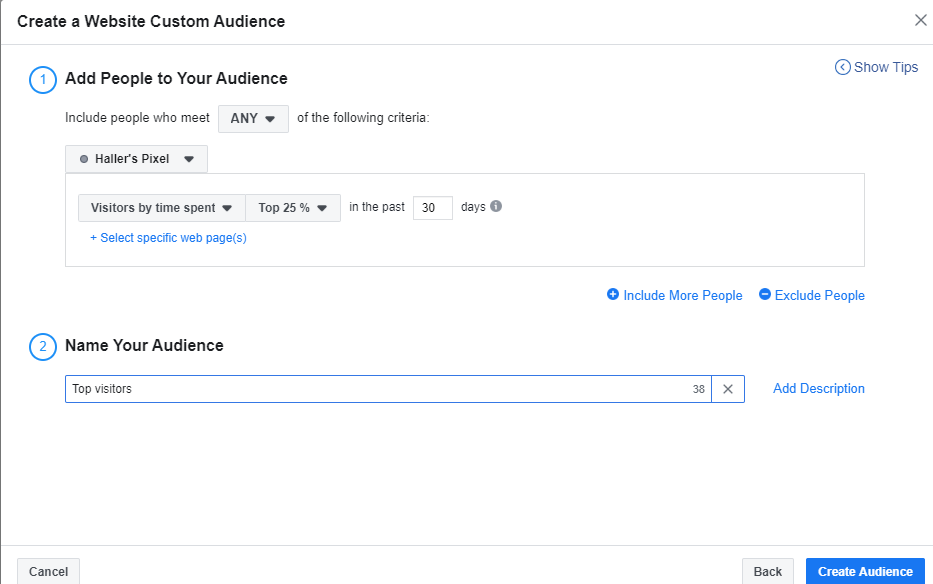 Lookalike audiences
If you want to reach brand new customers, creating lookalike audiences lets you target Facebook users whose behaviour is similar to that of one of your previously created audiences.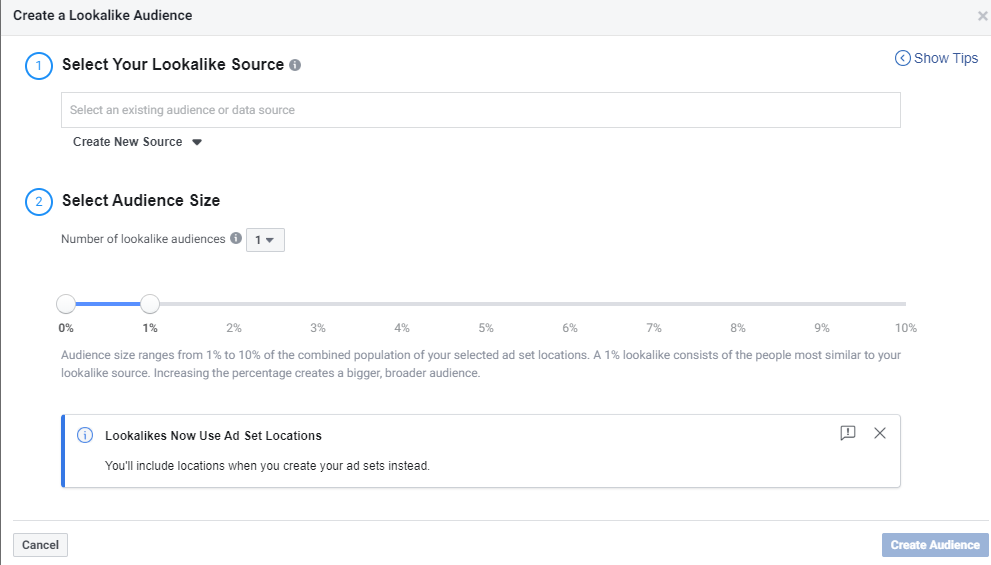 Your audience size is set as a percentage of the population of your combined ad set locations. Your Lookalike Source is the custom audience on which you would like to base the lookalike audience.
Next, you'll need to add locations based on a radius of a specific area, the age range of your audience, gender and languages.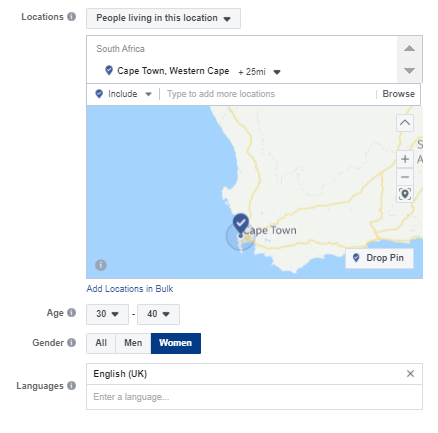 Detailed targeting and Connections
Detailed targeting allows you to customize your audience according to demographics, behaviour or interests and you can browse a number of different options here. Here are a few examples:
Interests>Entertainment>Movies>Animated Movies
Demographics>Parents>All Parents>Parents with Preteens (09-12 years)
Behaviour>Digital Activities>Facebook page admins>Health and beauty pages
Connections lets you target people who interact with your Facebook pages, events or apps, as well as custom combinations of the three.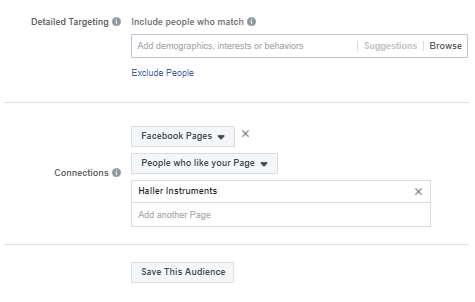 Make sure to save this audience once you've selected all of your parameters.
Placements
Facebook recommends using Automatic Placements- meaning they will choose your placements in order to maximize your budget and performance. If you choose Edit Placements, you'll need to decide which platforms and devices your ads show up on.
Platforms:
Instagram
Facebook
Facebook messenger
Audience network
Devices:
Placements
Next, you'll need to select your placements. Make sure to click on the drop-down menu for each section to select where your ads will appear. As you scroll through each section, you'll see an image to the right change according to how your ad will look to the user.
You can also choose specific mobile devices, exclude certain content, and apply block lists to exclude certain people from seeing your ad.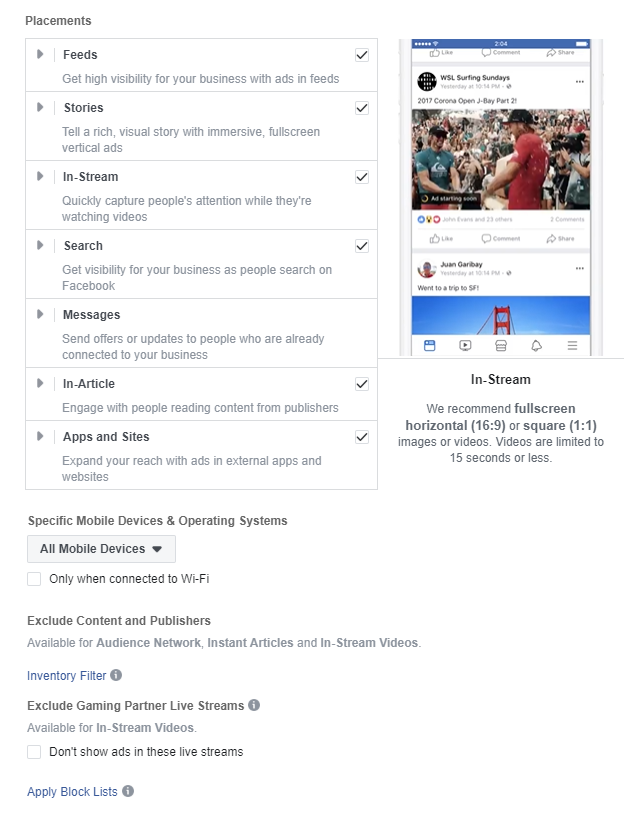 Delivery optimization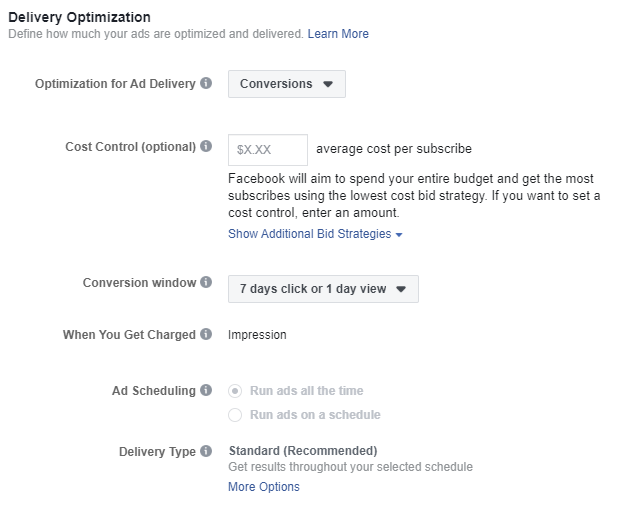 You can choose from Conversion, Landing Page Views or Other options such as Link Clicks, Daily Unique Reach or Impressions for your ad delivery optimization. This essentially means that Facebook will optimize your ad delivery based on the option you choose as your priority.
You can control your cost per conversion event – in this case for each subscription – by entering a dollar amount in the Cost Control box.
Additional Bid Strategies
Under Show Additional Bid Strategies, you can choose between the following:
Cost cap
This means that Facebook sets your bid for you so that you reach all the lowest cost opportunities while spending your entire budget. You can't control the cost of each action here, rather Facebook finds the least expensive opportunities for you and exhausts them. This option will spend your budget efficiently at first, but it's designed to get you the lowest cost in the short term. Facebook will eventually start bidding more in order to spend the rest of your budget for that day- even if the there is higher advertiser competition.
Bid cap
If you use Lowest Cost in combination with a Bid Cap, this means that Facebook can still up your bids as they try to spend your budget, but only up to a certain amount i.e. the cap you set. This stops Facebook from spending too much on a particular audience action, which is helpful if the conversion you're after is only worth so much to you. With this option, Facebook may stop running your ads if the bid cap you set is lower than what's needed to incite the desired action.
Target cost
Using Target Cost strategy means you maintain a stable average cost per conversion. Some results may cost more or less, but the average will be consistent. Facebook recommends this strategy if an advertiser is launching a campaign they plan to scale over time and increase ad spend for, which is what majority of Facebook advertisers aspire to. It's important to note that the target cost strategy is only used for app installs, conversions, lead generation and catalog sales.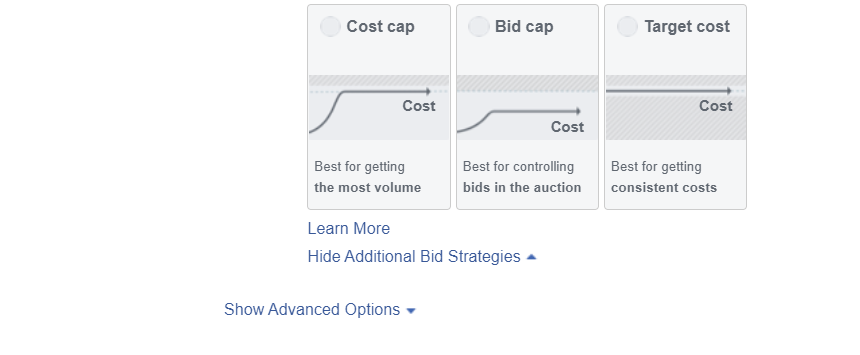 Conversion window
For conversion windows, you specify two aspects:
Length of time (e.g. 1 day)
Type of action (Click and View)
Your window differentiates between user clicks and user views. So if my optimization event is 'subscribe' and I use a conversion window of '7 day click or 1 day view' that essentially means that Facebook will track if a user subscribes to your service within 7 days of clicking on your ad, or within 1 day of viewing the ad.
Budget and schedule
You can choose a dollar amount for a daily budget or lifetime budget, both of which will require a start and end date unless you want your ad set running continuously. A lifetime budget simply means that you set the amount you're willing to spend over the duration of the dates you set, whereas daily budget spends a set amount each day.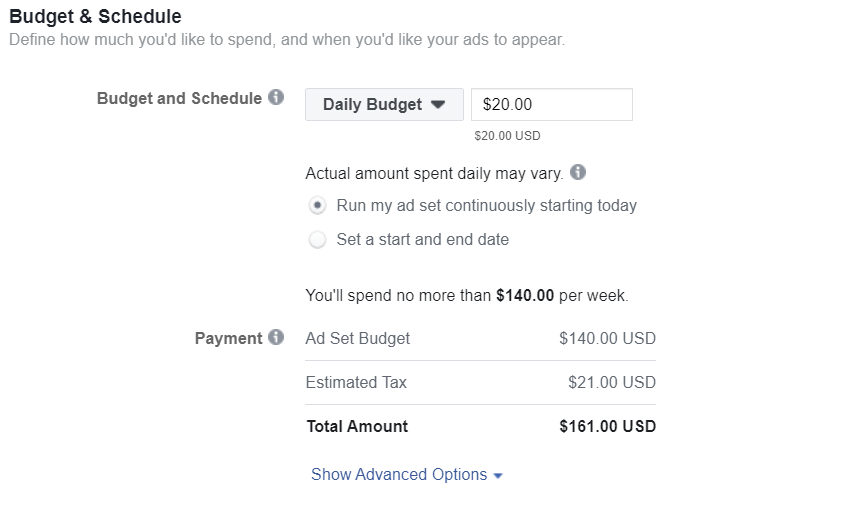 Under Show Advanced Options, you can add further specifications for your scheduling, as shown below:

Standard delivery means you budget will be spent evenly throughout the selected schedule. Accelerated delivery means your budget will be exhausted to get you conversions as soon as possible- although be wary, this means you may spend your ad budget before the End Date for your ad set arrives.
If you choose to run ads on a schedule, you can select the specific days and hours, as shown below: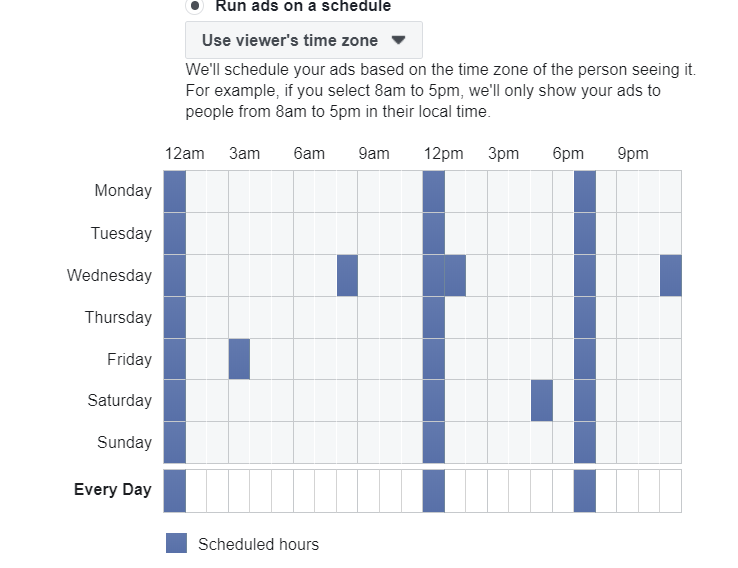 Voila! Now that your ad set is complete, you can go on to create your ad and set up conversion tracking.